TWEENER® Tennis
An entire line
of winners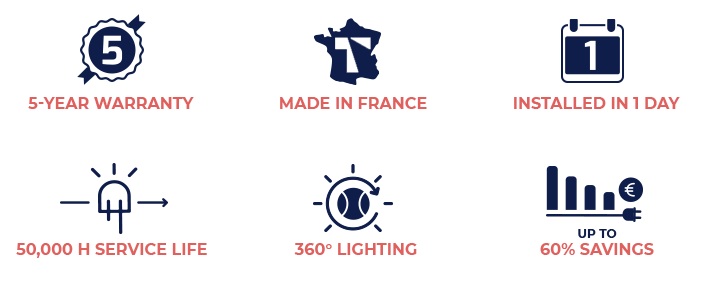 TWEENER

®

has revolutionised lighting solutions for tennis courts
thanks to its linear LED strips system which is directly fixed on the poles of the enclosures on each side of the court.
TWEENER® has unique advantages when it comes to all the criteria of choice, making it the product with the best quality / price / attractiveness / reliability / ease of installation ratio in the market:
Optimised lighting quality thanks to its proprietary LED technology
The most appealing price on the market in all regards: purchase, installation, operation
Attractive design: simplicity of the lines, quality of materials
Simple and quick installation: no building permit, installed in 1 day)
Modular system suited to the specificities of each court (dimensions, environment, etc.)
Perfect integration in the environment: little or no visual disturbance
A controlled carbon footprint: no works, concrete, or pylons
Only 2200 W to light 1 court, which is equal to the power consumption of one vacuum cleaner (< €0.4 per hour)
Certified product, eligible for federal bonuses
Long-term lighting: 50,000 hours minimum (equivalent to 4 hours per day for 35 years)
With the advantage of its innovations, TWEENER® has solidified its position as the major leader for several private or public clubs, tennis academies and other major operators (hotels, resorts, etc) or private owners.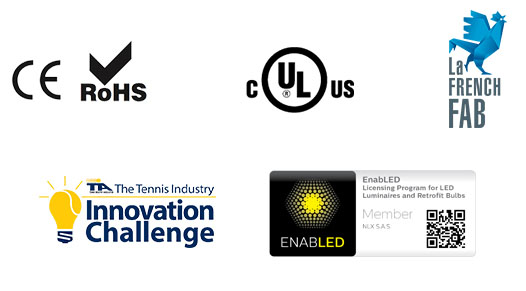 Two configurations of the TWEENER® system are offered depending on the number of courts to be lit: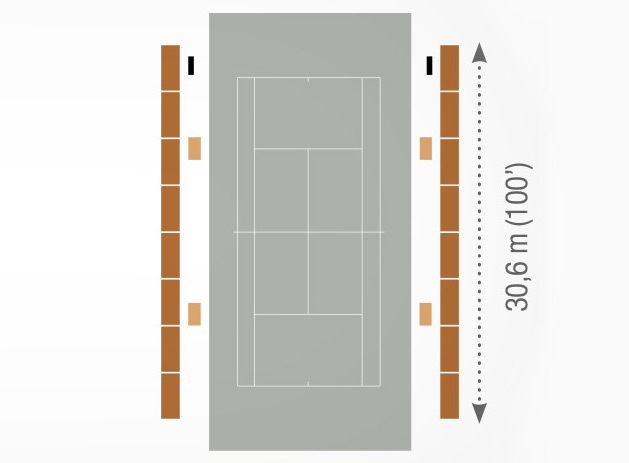 Single TWEENER®
(1 court)
2 models – EC standard and US standard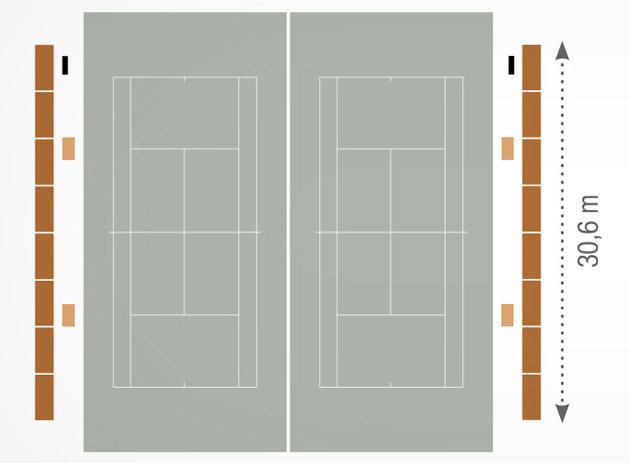 Double TWEENER®
(2 courts simultaneously)
2 models – EC standard and US standard
Each configuration includes: 2 x 8 LED strips fixed on 3-metre high poles + 2 "High balls" LED strips aligned on the service line. The total power depends on the single or double configuration.
Your TWEENER®  pack includes, in addition to different LED strips, all the fixing accessories (support plate, connection plate, mounting flanges and miscellaneous necessary screws and bolts), electrical extensions and a power supply unit fixed on a side at the end of the LED modules line.
A qualification sheet of the courts to be lit must be provided before the order to optimise the technical configurations of the Tweener systems in view of possible constraints of the courts.